I picked up a nice selection of old vinyl last week on a shopping trip to Reading, including two rather good funk albums by Mandre. Not a lot of info on the sleeves but I've gathered what I can online. Mandre was a group, and fictitious persona, of Andre Lewis, an instrumentalist who played and recorded with artists such as Grant Green, The Who, LaBelle, Earth Wind and Fire, Frank Zappa. Huey Lewis, Edwin Starr, Charles Wilson and the Gap Band, Sly Stone, Bobby Womack and Johnny Guitar Watson. He was also a tester of Roland products and was one of the first musicians to record with the infamous Roland TR-808 drum machine (featured in the second track linked below).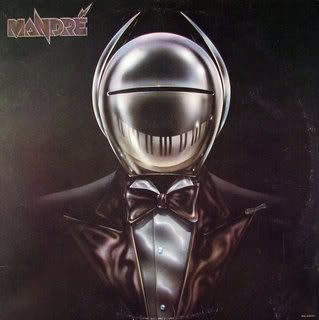 The first (self-titled) LP came out in 1977 on Motown Records and featured a mixture of Funk, Disco and some more Jazzy elements. It was mostly vocal tracks, including a great cover of Frank Zappa's "Dirty Love", but the standout track for me was the instrumental "Solar Flight" with its sweet synth solo's and a cracking bassline. The cover art (above) is also fantastic, very Daft Punk as somebody pointed out to me.
Mandre - Solar Flight (Opus I).mp3
Mandre - M3000 (Opus VI).mp3
The follow-up entitled "M3000" had a boring sleeve, but at least the music remained decent. The opening track of the same name kicks in with some space effects and a fast electronic arpeggio bassline, shortly followed by some TR-808 beats. Pretty impressive for 1979 I'm sure you'll agree. The tune continues in a similar vein to Solar Flight, with a Space Jazz kinda vibe to it. The rest of the album is not quite as strong as the debut, heading in more of a P-Funk direction, but it's certainly worth a listen if you can find a copy.
Gavin @
MySpace