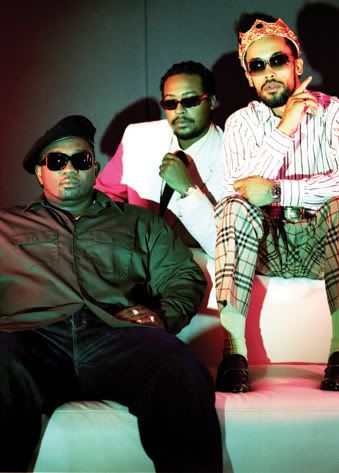 Celebrate - Sa-Ra finally have an album to their name. Last week The Hollywood Recordings, released on Babygrande Records, sees an end to their three year absence in a somewhat muted fashion.

It's clear that this is an album that is very very late. Much of the material is already familiar (Glorious, Rosebuds, Ladies Sing, Thrilla...), many of which are already considered classics.

So Special (Ft. Rozzi Daime) (Alt. Link)

So Special will be familiar to Sa-Ra devotees too. Leaked around 2004 the smooth summer vibe of So Special is pretty infectious and shows that Sa-Ra possess some pop sensibilities.

At it's best 'The Hollywood Recordings' invoke strong memories of N*E*R*D* debut 'In Search Of' mixed with Dilla smoothness and a touch of Madlib. At its worst it's Capone-N-Noreaga.

Fly Away (Ft. Erykah Badu & George Anne Muldrow) (Alt. Link)

Unbelievably this the first of two Sa-Ra albums to be released this summer: Black Fuzz is due out on a major label soon, which was originally due out last year on Kanye's G.O.O.D. Music label. Given past promises I remain pessimistic...

Regardless, for long-term Sa-Ra fans 'The Hollywood Recordings' is outstanding value. For newcomers, it serves as the best introduction possible. I recommend picking it up on lovely double vinyl from Juno/Piccadilly or pop into your local independent (who tend to be selling for around a tenner).