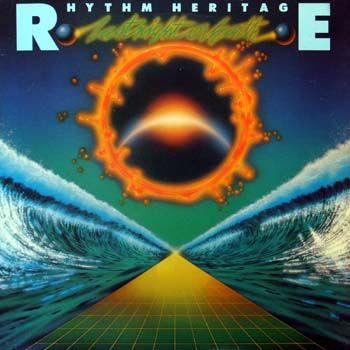 Somebody commented on my New York Digging post recently, requesting Rhythm Heritage - Last Night On Earth. It was an album I'd not really listened to much yet so I sat down with it this morning and gave it some time. It's a nice mix of funk and disco, a little cheesey in places but I have no problems with that. It's very grand sounding, like a lot of the seventies orchestrated disco stuff, and well produced. It opens with the Theme From Rocky (Gonna Fly Now) which is a good track but I have a nicer version by Richard 'Groove' Holmes that I might post another time. There is also another version of Steely Dan's Do It Again on there in a medly with Cisco Kid. Highlights for me are Angry World - part 1 of the Last Night On Earth suite - which has a solid, uplifting groove to it and some nice electric guitar work. And the upbeat disco cheese of Dance The Night Away, enjoy!

Rhythm Heritage - Angry World.mp3

Rhythm Heritage - Dance The Night Away.mp3

There was also an older request for the dub of Class Action's version of Weekend. No introduction should be needed for this classic track, and possibly the funkiest synth hooks of all time! Be sure to check out the more organic funk of the Phreek original too.

Class Action - Weekend (dub).mp3

Well, I hope you Anonymous readers are happy and come back to show your appreciation!

As you can see, the site has had a visual overhaul. It's been something I've wanted to do for some time now but haven't had the time or patience for. Well yesterday I did and I'm pleased with the results, hopefully you like it too - I'd be interested to hear your opinions. The aim was to make the blog look a bit more sexy and stylish without distracting from the music, which of course is the most important aspect. On a related note, I've had a couple of emails recently from companies offering advertising for music blogs but I personally think adverts are inappropriate on a site like this. The site is a hobby that costs me nothing to run, so why should I make money by sharing other peoples music? Not to mention the fact that the web is a far nicer place to browse without the intrusion of adverts.