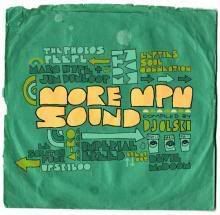 Coming out right at the tail end of 2006, Melting Pot's latest compilation "More MPM Sound" is a collection of their 12" releases this year on a nice handy CD format. Jammed full of funk, soul & hip-hop but mainly of the breaks variety. It's very hard to pick any standouts because there is such quality right across the board. Melting Pot do tend to seek out and pick up on the more interesting artists out there.

A-KO - Chicago
Kutiman - No Groove Where I Come From
Breakout - Planet Rock

A good example is A-KO. An 18yr old crate-digger from Grimes, Iowa who has been gathering momentum through internet word of mouth. He puts together remixes, bedroom-style, and in process he keeps all the lovely imperfections kept in tact. "Chicago" is a perfect mix of old samples and new sounds, sans needless over-production.

Kutiman provides us with a nice Afrobeat workout on "No Groove Where I Come From". Great Stevie Wonder styled organ work which builds into a lovely soul jam before gliding off into space.

My highlight though is the Breakout reworking of Africa Bambaataa's "Planet Rock". Energetic and thrilling, and although I struggle to hear the original (I concede I'm rubbish at sample-spotting) it hits just as hard.

There are other reworkings on this compilation too, including "The Mexican" and DJ Shadows "Organ Donor" (which is meant to be hyphy re-remix but I just hear the funk!).

All in all, almost too chilled for winter.

"More MPM Sound" is available at Juno or directly from Melting Pot Music on your format of choice (CD/LP).