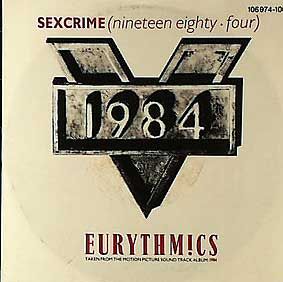 No, not The Loft, but my loft. I found some old records up there last week (not mine), most of which were bad - Phil Collins, Pointer Sisters, Miami Sound Machine etc. But this track by Eurythmics really caught my ear. It's the b-side to their Sexcrime single, taken from their soundtrack to Michael Radford's film of the George Orwell novel 1984. The beat is nice and slow and the combination of live and synthesized bass works really well, whilst still leaving plenty of room for you to find the groove between beats. The use of Annie's voice without her actually singing any lyrics is also well done. It's over all too quickly for my liking though and there is no sign of an extended mix as far as I can tell from searching Discogs.

Eurythmics - I Did It Just The Same.mp3

You can order the album from Amazon. It's dirt cheap and supposedly a very good album, I shall investigate.